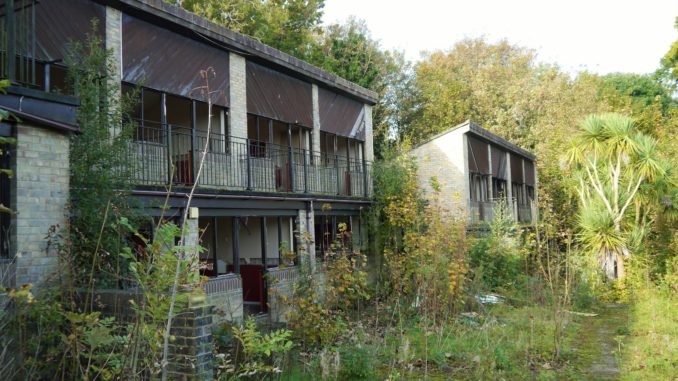 Harcourt Sands, owned by Renowned, closed back in 2006 resulting in over 11 hectares of land becoming an unused eyesore with the loss of 167 jobs. In 2007 vandals targeted the abandoned buildings resulting in a massive blaze that destroyed the holiday park's entertainment complex. The site has not been occupied since.
"Set in award-winning gardens that stretch down to a sandy beach, ideal for strolls and views across the Solent. Indoor pool includes a super flume, bubble pool and sauna. Outdoor pool is open from end of May to end of August. Children will enjoy the Toboggan Run and their own programme of fun activities. Other attractions include short-mat bowling, archery, gentle fun-fitness, line dancing, tea dances, championship 3 rink indoor bowls and bingo. Plus evening entertainment with top class cabaret and live dance band. Chalets include en-suite shower or bathroom, tea and coffee facilities, colour TV, fresh towels and soap, and bed linen. Ambassador Chalets (available at a supplement) are furnished to a higher standard and include Teletext TV, hair dryer, radio-alarm, a welcoming bottle of sparkling wine, chocolates and fruit basket."
The Explore
Myself and another explorer started the day by getting the early morning ferry over to the Isle of Wight. There were about six or seven locations that we wanted to try and cram in that day so we didn't hang about at any of the places we managed to get into that day.
After finding the abandoned holiday camp we managed to find a way in, avoiding the anti-vandal paint slapped on everywhere. The place has been closed for ten years, and in that time its been well and truly vandalised and destroyed. However there are some parts of the place which still look good condition and the buildings themselves, other than being over grown with bushes were in good nick.
Unfortunately after trying for ages we couldn't get into the indoor swimming pool area, it had been recently boarded up and was very secure with no roof access. I did manage to get half way in through an air duct tunnel but got scared and came out.
We didn't get to explore the whole site as we were caught half way in a building by security in a van with a dog and had to run like hell. A good explore though and I will defiantly be going back to get into the swimming pool and explore the rest of it!