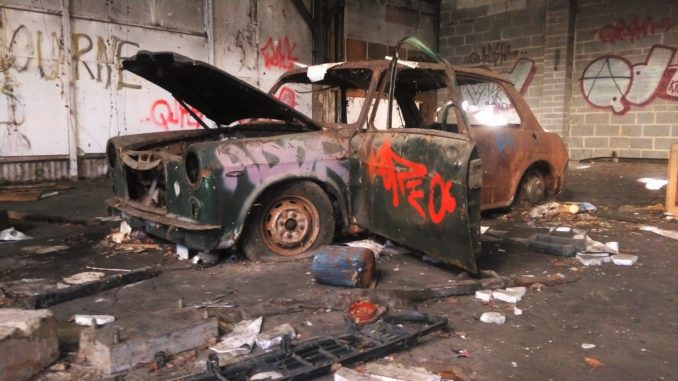 This old boat builders yard is right on the edge of destruction. It has been set on fire numerous times and trashed beyond belief. All I know of this place is that it was used by boat builders and has been abandoned for over twenty years! It is right on the water front on a pebble beach and has its own slipway for loading the boats into and out of the sea.
The Explore
When we turned up at this location there were three bikes stood up against the fence and some young kids messing around inside, it sounded like they were smashing stuff up. We kicked them out and had a look around.
The place is full to the brim with asbestos and is almost entirely made up of the stuff, I'd recommend masks in this place if your visiting, its horrid inside.
There is not really much in this place at all really, a few reminders that it once was a working boat yard and some remains of some old cars. We found some old Jag doors and parts along with a burnt out trashed car sat in the middle of one of the workshops. This for me is the best thing of the explore and is the only thing worth seeing here. A good explore though and worth it for the shot of the car!
If anyone knows what car this is then please let me know! Bet it was a beauty in it's time.
Only had my mobile phone no camera on this one, but got a couple of good pictures.